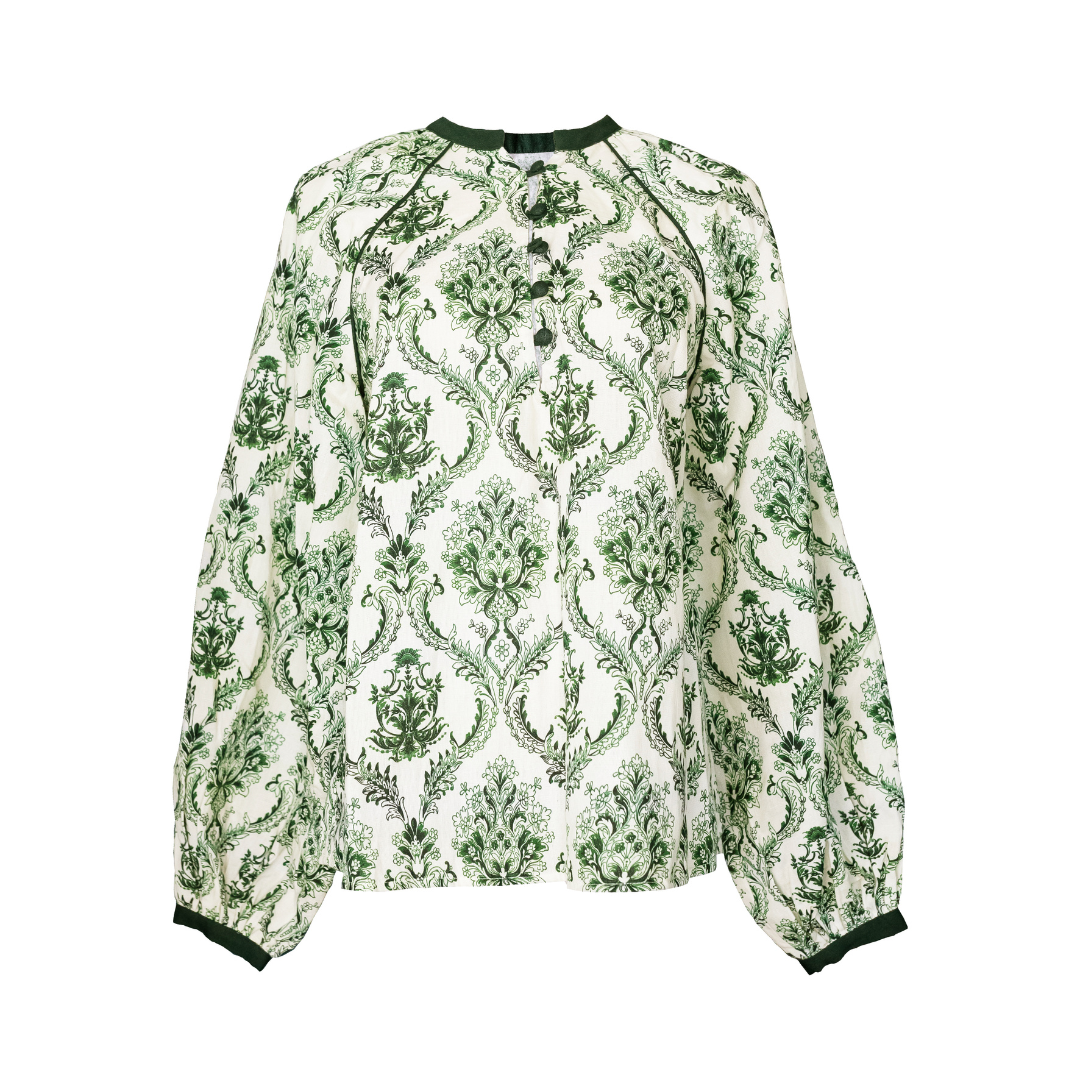 Blouse, Green and Ivory Trellis Print
This summer, my family and I spent time in Europe in some lesser known countries like Croatia, and the verdict is out -- everywhere in Europe is steeped in history, inspiration and beauty. I was constantly snapping photos of the buildings, bistro chairs, terrace gates and tile. A few patterns really stole my heart, so we recreated a print akin to the beautiful artistry that has to be hundreds of years old. Going into new destinations with this new lens of creating Mason's Daughter has reginitied my creative bug in a whole new way. I love wearing this hat and hope this new trellis collection brings a bit of old world beauty into your wardrobe. We stayed within a more restricted color palette than print collections past -- glorious green tones on an almost antique white reminiscent of the ceramic floors that started this whole charade. The romantic nature of the print pairs well with the bodies we landed on; I especially love the juxtaposition of it on the blouse and tunic dress. These are the thoughtless styles (that don't appear so) your closet demands of you on a busy morning. Then, there are more tailored garments like the midi dress and pleated skirt that look so polished for days where you want to feel more dressed up. Best of all, I promise these can be worn now, next fall and every day in between. 
Mason's Daughter is The Avenue by Lyndsey Zorich's in-house label. The collection was thoughtfully designed with comfort, novelty, and quality in mind as Zorich and team have gained a keen sense of their clients' style after four years selling household and emerging brands. 
Tell Me More
Linen/Cotton fabrication
Pull on style 
Long sleeves
Green contrast buttons 
Fit Notes
True to size.

LZ takes the XS in this style.
Take Care
Machine wash cold
Linen/cotton fabrication